Summer Special, two free trial lessons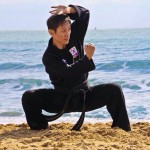 At our school we are so confident that you and your family will be convinced by the results, we will give everyone joining over the Summer period 2 free trial lessons to try the Kuk Sool Sudbury Experience for themselves.
Classes are low cost and are held on Sundays at the Kingfisher Leisure Center 4-7pm. There are also classes every Thursday at the Curve from 7-9pm.
Come and train in an award winning martial arts school founded ten years ago by SBN Karen Smith 4th Dahn 12 x British and 12 x European Champion, Grand Champion and World medalist. The school is now operated by PSBN Steven Gooderham 3rd Dahn, who has been training in Kuk Sool for nearly two decades and is a excellent teacher.
The school is WKSA approved, fully insured through Kuk Sool Won UK Schools Ltd Block Policy, all Instructors are DBR checked, first aid trained, SAFE accredited and we are a Suffolk Childrens University provider. Why take unnecessary risks when you can experience martial arts as its best.
Main class fees - 4.50
Little Dragons fees - 3.00
For further information call PSBN Steven on 07462 777 855 or email him at stevengooderham@gmail.com