Principal Instructor
PSBN Steven Gooderham (3rd Dahn)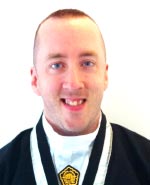 PSBN Steven has been a member of the World Kuk Sool Association for over 17 years. Having tasted a few other martial arts growing up he quickly realised Kuk Sool Won was what he had been looking for. The variety of techniques, skills taught and the comprehensiveness of the system were what really appealed to him.
He started his training 1998, gained his 1st Dahn in 2001 and his 3rd Dahn in 2014. Over this time he has competed at several tournaments, winning a selection of medals, excelling in empty hand forms, self defence techniques, weapons and sparring. The highlight of his training to date was in 2006 when he tested on his own in front of the Grandmaster for his 2nd Dahn, he found this a tough, but incredibly rewarding experience.
Becoming the Principal Instructor at Sudbury is the realisation of a long held ambition for Steven as he has gained much experience as an Assistant Instructor but always aspired to run his own club. He sees taking on KSW Sudbury as an incredible opportunity and is looking forward to passing on the knowledge and experience he has built up over the years.
He has a keen eye for detail, a good sense of humour and always trains with a smile on his face and he encourages his students to train in the same way. Steven is currently working towards his 4th Dahn (Asst. Master) and hopes to promote sometime in the next few years.

Founder & Visiting Instructor
SBN Dr Karen Smith (4th Dahn Asst. Master)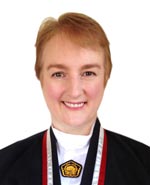 SBN Karen founded KSW Sudbury in 2005 and over a period of ten years trained 20 students to black-belt, produced 4 WKSA Grand-Champions and 3 SBN Kim Francis Memorial Tournament Grand-Champions. The school was awarded a Suffolk Constabulary Shield for providing free-of-charge self-defence training to local women and it was also awarded 4 High Sheriff Awards, 2 Babergh District Council Awards, Young Suffolk President's Award, BBC Suffolk Unsung Hero and SAVO Award.
Over £5,000 was raised for charities including: EACH, St Nicholas Hospice, CLIC Sargent, MacMillan, CRUK and the Red Cross. Funding awards were won from the National Lottery, Sports Relief, Foundation for Sports & the Arts, Sudbury Town Council, Suffolk Foundation and Safer Suffolk Foundation and tuition fee support was provided to over 200 junior students from low income households. Numerous demos and classes were undertaken supporting; Sudbury Town Council Party in the Park, local youth groups, schools, libraries and the women's domestic violence forum.
Karen is a very patient and enthusiastic teacher of Kuk Sool and has won 140 medals in international competitions including the World Championship, the European, UK, Scottish, Spanish and Benelux Tournaments; including two grand-championships, 12 UK and 12 European golds.
In August 2015 Karen decided to step back as Principal Instructor to focus her training towards 5th Dahn Master but continues to support the school in the role of Founder & Visiting Instructor.
Hello and welcome to Kuk Sool Won™ of Sudbury. Kuk Sool Won™ is a systematic study of all the traditional Korean fighting arts and is the largest organized martial art in Korea. Anyone can benefit from studying Kuk Sool Won™, whether you primarily want to get into better shape, or if you would like to learn self-defence techniques. Everyone is welcome, from beginners to experienced martial artists so please contact us if you are interested in joining, or attending a practice session to see what it is all about, it could just be the beginning of a wonderful journey!
Gam Sa Ham Ni Da (Thank-you)

Principal Instructor
Founder & Visiting Instructor
Assistant Instructors
Other KSW Sudbury Black Belts
(2005 - Present)
SENIORS:
PSBN Lynn Whiting
JKN Matt Baker
JKN Derrick Bright
JKN Rachael Bright
JKN Ollie Green
JKN Kayleigh Knight
JKN Paul Pellegrini (no longer with WKSA)
KSN Tony Pellegrini (no longer with WKSA)
JKN Kurt Smith
JKN Paul West
JKN Lisa West
JUNIORS:
Jnr. JKN Maria Whiting
Jnr. JKN Jemma Slade
Jnr. JKN Matthew Hayward
Jnr. JKN Jessica Knight
Jnr. JKN Maxi Webster-Coles